Individual yoga sessions with tailored modifications offer, a gentle introduction to yoga, advance your yoga practice mindfully, or assist return to yoga following a break due to illness, injury or just absence!
As an active person Robyn now understands the need for mindfulness, and the right balance of energy expenditure, so that we can live sustainably. Learning about ourselves, how our body shows anxiety, how our mind interprets pain, is crucial to being in control.
Robyn offers a unique authentic, adaptable, open style, guiding you to embody these qualities with compassion and to be truely your vibrant Self.
Robyn's individual yoga therapy sessions aim to help with…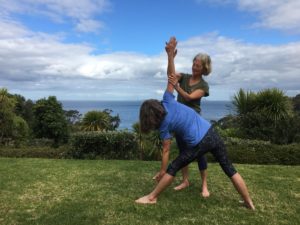 Pre and post natal fitness and movement guidance
Stress management + Breathing awareness
Yoga Therapy
Wellness advice
Massage Therapy
When you are unable to get to a class or for an extra practice, enjoy YouTube practices from Mindful Movement NZ