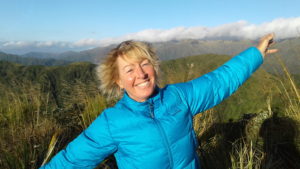 About Linda
Linda is an experienced walker who leads Mindful Walking sessions in the community including Nordic walking, trail guiding and group hikes.
She walked Te Araroa, the 3000km length of New Zealand trail, raising funds for defibrillators.
Linda's background includes editing a national fitness magazine and as a health reporter. She did a variety of roles for NorthAble Disability Services and St John Ambulance. Work at Tawapou Coastal Natives plant nursery has reinforced her love of nature.
She is enthusiastic about the benefits of walking and the calm nature can bring. To share that experience with others, she organises walks including a year-round programme of Nordic walks. Also trail guiding and group hikes to meet demand.
She supports people to connect with community, themselves and environment through the simple yet deep experience of walking. A loyal and obliging person, Linda is there for you and your goals.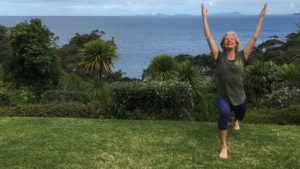 About Robyn
Robyn previously owned 2 Physiotherapy practices and values this background,  a specialised practitioner in the promotion of safe physical activity, her aim is to promote 'Movement for Life', restoring independence, helping you breathe, improving your sports. Robyn has always encouraged people to be pro active in their health and fitness. Mindfulness is the key to our long term function and wellness.
Robyn began to teach yoga in Ngunguru Hall at the beginning of 2013 'this has been such a gift, a privilege and I have learnt so much'. She continues to take the Tuesday night class.
Robyn also introduced Nordic Walking to the Tutukaka Coast in 2010, now lead by Linda. What a wellness treat that is!
Robyn offers Mindful Movement Therapy including both Individual Exercise and Yoga therapy sessions. Her point of difference is teaching people to learn about their body and the reason for their injury or 'weakness' – encouraging self awareness and acceptance with modifications and appropriate levels of exercise for the individual right now.
See more on Movement Therapy….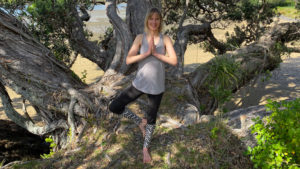 About Kate
Kate has recently completed her yoga teacher training through Ashram in Auckland, 2019. Kate loves learning about this this ancient practice that began thousands of years ago in India and still has relevance in our world today. To be mindful in yoga is to bring awareness to both the mind and body, to practice asanas (postures), pranayama (breath), relaxation and meditation. Yoga has had such a positive influence in Kate's life far beyond just being able to touch her toes! Kate also has a degree in both Physical Education and Physiotherapy from Otago University and currently still works part time as a community physiotherapist. Kate feels lucky that both her jobs complement each other so well. Kate really enjoys living on the Tutukaka coast with her young family surrounded by beautiful sea and bush.